Student Leadership
Head Girl's Welcome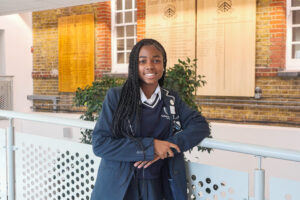 Sarah Bonnell is a place where dreams and ambitions take flight, where creativity is encouraged and where values such as respect, integrity and compassion are instilled in every one of us.
At Sarah Bonnell we build a sisterhood where students feel comfortable with one another, celebrating each other's successes and embracing unity. This sisterhood promotes a safe and empowering environment which extends beyond the classroom too, as we support each other during extra curricular activities
As Head Girl I aim to represent the school with integrity and amplify the message of "work hard" because by working hard you can achieve what you want, whether it be a big or small.
Alongside the Sarah Bonnell values, I want to promote my motto "think it, believe it , become it" to the daily school life of students. This is so they feel as though no goal is unachievable .
As we start this new academic year let us remember that each and every one of us has the potential to make a positive change and strive for excellence in everything we do, wherever we are.
Tiana Tara-Walibange, Head Girl, September 2023
Our Student Leadership
Our Student Leadership Team gives our students a voice and provides leadership opportunities which develop their confidence and communication skills.  Opportunities for our students to participate in school leadership positions are available from Year 7 through to Year 11.  These include:
Executive Council – every year group has a school council: a group of students who are elected by their peers to represent the interests of the year group and to bring their ideas to the whole school community.
The school council model we use at Sarah Bonnell enables every student in the school to have a voice. Ideas from tutor time feed into the Year Group Council, with three members of each Year Group Council sitting on the Executive Council alongside the Student Leadership Team. The Executive Council both contributes to and supports the evaluation of the School Development Plan.
Big Sisters Programme – a team of Year 11 Prefects who volunteer to support Year 7 students as they start school and support them to establish friendships and understand school routines. 
Key Stage 3 Ambassadors the programme supports our younger students to develop as leaders.  KS3 students develop their decision making, time management and leadership skills through shadowing members of our Prefect Team. In addition as Ambassadors, our students are given a range of opportunities to support various school events such as interviews, projects and curriculum development so that they can prepare themselves to work effectively in a team.
To become an Ambassador, students first need to put forward an application which is considered by the Student Leadership Team and staff team.  The next stage is an invitation to an interview with a member/members of the Prefect Team. Successful applicants then take up the role as Ambassadors.
'Being part of the KS3 ambassador team is such a great honour. Sarah Bonnell has given me so many opportunities and you can be given many opportunities too' ( Year 9 Student) 
Year 11 Prefect Team – a team of students who work alongside the Strategic Leadership Team led by the Headteacher. This team ensures that student voice is heard and that student initiatives are harnessed to make our school an even better place to learn.  Head Girl applications are made from the prefect group.
Student Leadership Team – this mirrors the structure of the Strategic Leadership Team 
The team consists of the Head Girl, three Deputy Head Girls and six Assistant Head Girls.   Our Sports Captain and her Deputy complete the Year 11 Student Leadership Team.Each member of the Student Leadership Team is responsible for leading an an aspect of the School Improvement Plan.
'Pupils take an active role in the life of the school beyond the classroom. They participate in many of the clubs and activities on offer, perform in assemblies, help to organise events and activities and mentor younger pupils. School Leaders listen to pupils and involve them in decision making' ( Ofsted Report, November 2022)